The world of drive technology is constantly changing, growing and facing challenges, and this applies to the ball and slidescrew drives made by Eichenberger Gewinde AG in Burg, Switzerland. Speed, load capacity, precision, maximum service life come together with smaller, more compact, more adaptable, more robust, safer and more economical. These quality features in turn interact with resource and energy efficiency. Today, the ideal mechanical component must meet the highest performance requirements whilst costing less, whether in automation, vehicle or machine construction, electronics, medicine, textiles, graphics, building technology and so on.
Goal: Innovations with a head-start
For the thread specialist from Switzerland, close cooperation with customers and goal-oriented dialogue are basic prerequisites for challenging individual solutions. Clear understanding of the customer's product is essential for success, and then combined with a wealth of experience and a high level of quality awareness so that innovations with a head start can be successfully realised.
The thread specialist succeeded in developing one of the key design elements for a new and revolutionary, future-oriented, automated version of a coupling system and bringing it from individual production to series production. This clutch system, with a cold-rolled ballscrew of 12mm diameter, caused a sensation in the professional world. The outer contours virtually determined the inner aspect of the ballscrew drive.
One of the major challenges was to find the perfect solution for the extremely limited space available, taking account of all other requirements in accordance with the specifications. The complete ballscrew unit had to be dimensioned down. When development, production and quality assurance come from the same source, there is great flexibility in the manufacturing process and creation of prototypes, including thread rolling tools, as is the case at Eichenberger. Thanks to these factors and our modern machinery, we can produce flexibly and competitively, even at expensive locations.
The cleanly coordinated coupling process demands the utmost in terms of dynamics. For a distance of 50 mm, a load from 0 to 2000 N (Newton) is required within 20 ms (milliseconds). The Carry ballscrew drive can easily withstand these demanding requirements between dynamic forces and motions. Cold forming in a non-cutting production process enables very precise profile geometry and thread rolling produces high surface quality. The extremely low roughness values (≤ Rz 1.0) on the thread flanks have a very beneficial effect on strength and running qualities and thus the service life.
What lies behind these quality features?
What sounds so simple in the case of the new coupling system described above required significant input, namely 6 years of basic research and development in the fields of dynamics and lubrication. Lifetime lubrication is a big demand and not straightforward to achieve when 7-digit, highly dynamic load changes at up to 5800 revolutions are involved. Extensive testing was required to achieve the impressive efficiency of the Carry ballscrew of over 90% over its entire service life. In some cases, endurance tests were carried out over 6 months, and the lubrication tests alone took more than 2 years before the required service life was reached. The team developed a test concept according to customer requirements and specifications for the special ballscrew for this new coupling. Only when the whole unit works optimally together (spindle, nut, balls, lubrication) can the highest customer requirements be met. Due to the tight tolerance levels for torque, axial play and concentricity, 100% checks of the fully assembled screw drives are carried out on a special test stand. The ballscrew unit with the special "inner world of the nut", is marked by laser. The data matrix code registered enables the final inspection to be traced 1:1.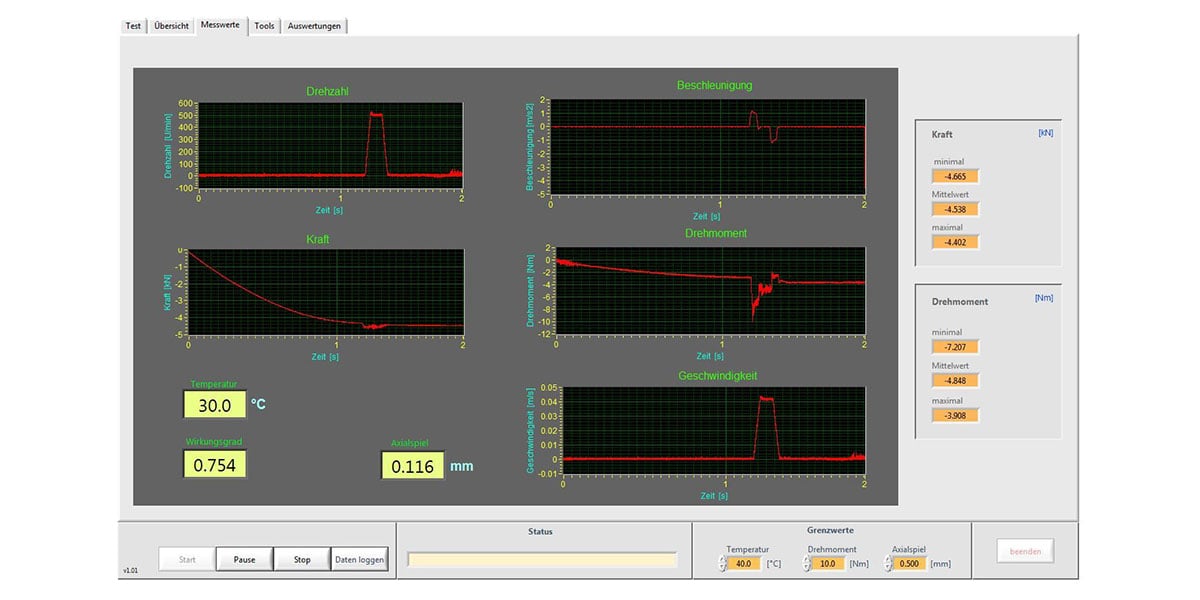 Test data, registered data
Quality is the key to success
To a great extent, quality assurance determines the sustainable success of a company. Therefore, it is all the more important not only to maintain quality at a constant level, but ideally to continually improve it and adapt it to the ever-changing conditions and requirements. In order to master this challenge, active, continuous development work in the value-added process is needed. The high-tech Eichenberger test systems are indispensable in many stages of these process chains.
Comparative wear test
Endurance tests are carried out in the research and development department to compare different geometries, lubrication and service life. A special test rig for wear comparison is loaded and tested using a one-sided continuous load. Accelerations and decelerations, together with the speed and travel distance, can be programmed via parameters. Displays indicate, for example, how the lubricating film on the ballscrew unit behaves during fast or oscillating application, and grease degradation and contamination are observed and evaluated. How do the tribological properties of different lubricants compare? Does the temperature change due to signs of wear, does the noise change? At what point does profile deformation occur? Investigations over and above total failure continuously build up knowledge. Thus, exemplary combinations of spindle, nut, balls and lubricant, which meet the requirements, become evident. This powerful testing system is indispensable in the field of research and development. It effortlessly experiments with several million cycles in one test run. The knowledge gained is extremely valuable.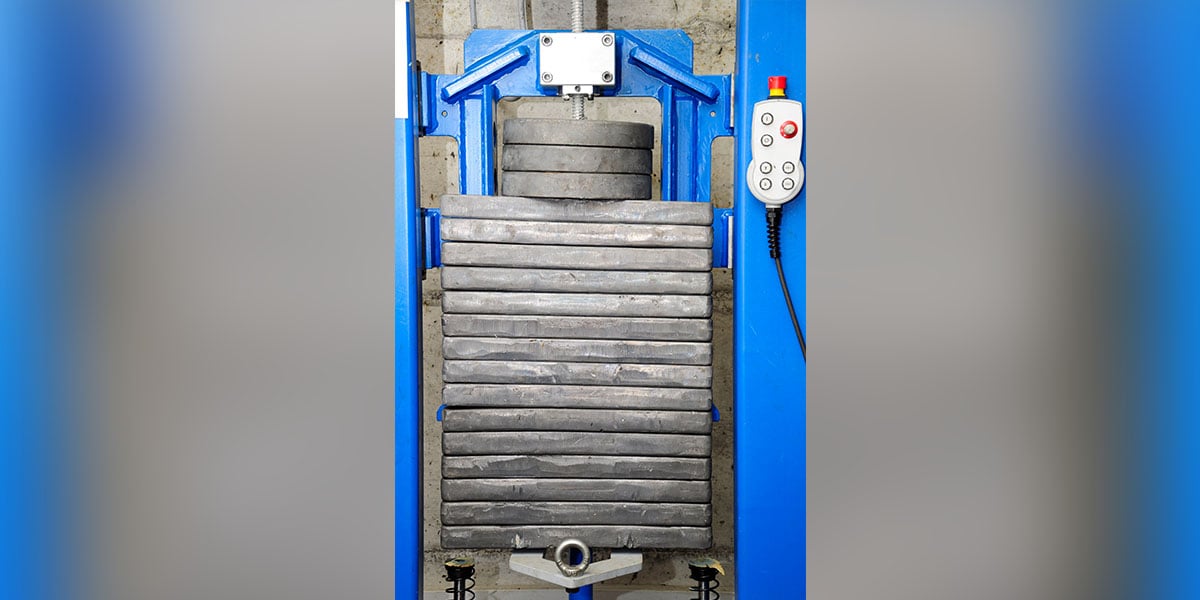 Ballscrew drive 12 x 3 mm, in wear comparison test, screw drive permanently loaded with 485 kg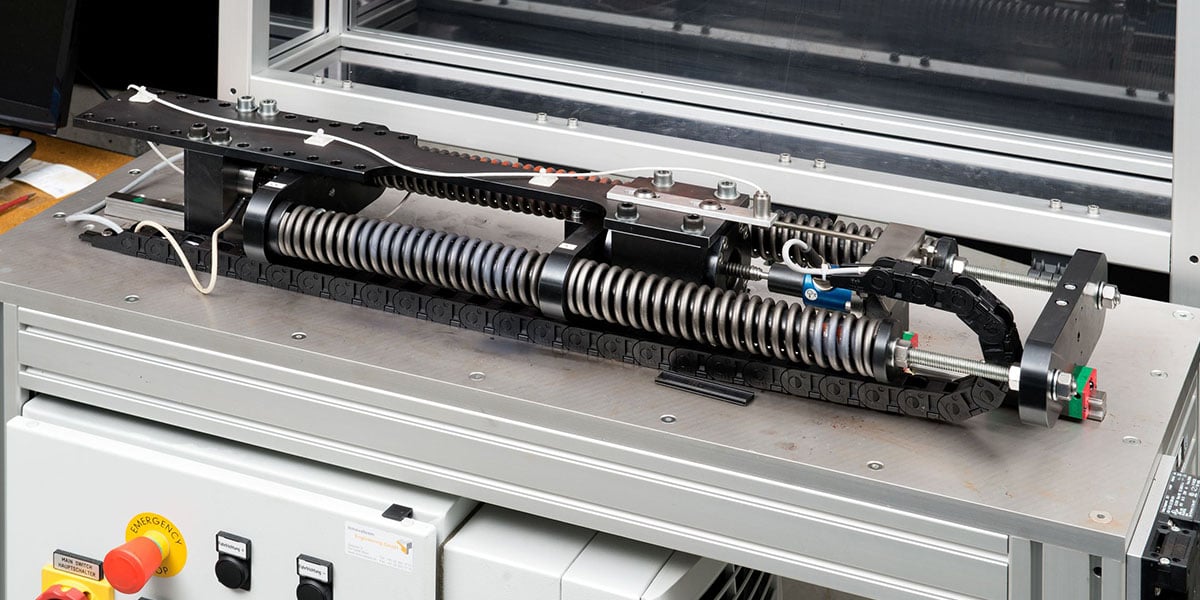 Service life tests
End-of-Line testing
Quality is achieved when the actual and target values match. The tailor-made end-of-line test systems are used for testing and for the final 100% functionality inspection of the assembled ball or sliding screw drives. Simplified operating conditions are simulated for the shortest possible time periods. Torque and axial play of the complete drives are measured. Running performance is tested within predefined tolerances. Special software evaluates the measuring signals and compares them with the previously programmed set and actual values of perfect screw drives. The inspection decision is then based on these measured values. The data reference is applied to the ball or sliding screw drive by a permanent laser inscription as a data matrix code. This 2D code allows the origin and stored values of all components to be transparently traced.
Customer-specific tests, trials, measurements
Based on the know-how accumulated over many decades, Eichenberger permanently develops modern and highly dynamic test solutions for the latest developments in its own product range or for customer-specific applications. Tests and analyses adapted to specific projects and screw drives are essential for the research and development work of the design engineers. Internal quality monitoring of production can be carried out at the same time. The complex test benches for customer-specific tests and future developments can be loaded on one or both sides, as basically they simulate real operating conditions.
The functions are carried out via freely programmable variables. Important mechanical test parameters such as force, torque, runout and axial play are observed and recorded. The efficiency is calculated continuously. Any noise is recorded, and the behaviour of the lubrication and temperature are also measured and documented. These test systems consist of a unique combination of mechanics, sensors, control and software.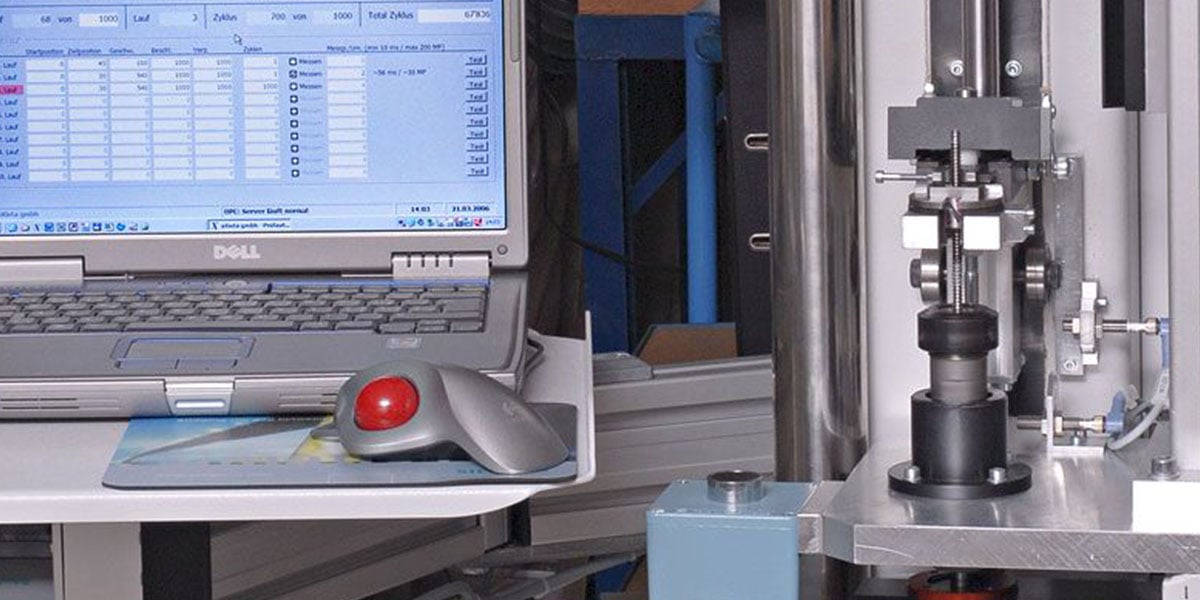 Testing of threaded spindles (efficiency, backlash, torque, noise)
What is thread rolling?
The core manufacturing competence of Eichenberger Gewinde AG lies in thread rolling. The thread profiles of Eichenberger threaded spindles are therefore manufactured exclusively by this process. Thread rolling (often also called thread forming) is the cold forming of the lateral surface of round parts made of steel. A thread is produced by deforming a workpiece under radial-dynamic force between two rotating rolling tools. Due to the penetration of the tool profiles into the surface of the workpiece, the cold material is pressed into the bottom of the thread rolling tools and thus rolled up to the required dimension.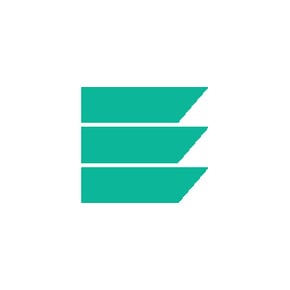 Eichenberger Gewinde AG
Mit Leidenschaft für die perfekte Bewegung, um Sie voran zu bringen. Die Nummer 1 in der Gewindetriebtechnik.