High-helix lead screws are found in all areas where rotational movements are converted into high-speed longitudinal motion, such as rotary drives or swivel motors in dispensing and analysing equipment or in door closing systems. One such steep lead screw originated during the late 1980s here in Burg, Switzerland. The Speedy steep rolled thread spindle of 10 mm diameter and 50 mm pitch was created a quarter of a century ago.



Moving ahead with sound innovation
Nowadays, customers are increasingly looking for cost-effective, energy-saving overall solutions with low operating costs for drive systems. Furthermore, manufacturers are seeking technological benefits that strengthen their competitive edge. Hence, demand for automated drive systems is rising rapidly. The need for practical solutions brings stimulus and challenges to mechanics.
Eichenberger Gewinde AG specialises in thread technology and has been rolling tailor-made, high precision and ingenious motion spindles for almost seven decades. Over the years it has developed its own processes. The company has a wealth of experience and technical know-how to support its partners in their innovations.
The original- first Speedy version,
10 mm diameter, 50 mm pitch.

The original Speedy journey began in the late 80s


The success story of Europe's "first cold-formed steep-thread sliding drive with an enormous pitch ratio of 10 x 50 mm began at the end of the 1980s. A Swiss industrial company needed a very precise and reliable drive solution for a new type of measuring system. At the centre of this state-of-the-art testing system was the servo-hydraulic linear actuator. The integrated automation functions such as positioning or feed tasks needed to be managed by a milled, high-precision sliding thread drive. The production process was extremely expensive. This was why the customer was looking for a highly precise and reliable sliding thread spindle that could be manufactured using cost-effective thread rolling. Thread rolling involves deflecting the longitudinal fibres of the material rather than cutting them, in contrast to milling or turning. The result is a compressed, smoothly rolled, extremely resilient surface. The enterprise approached us - it turned out that the dimension specifications were ambitious: 10 mm diameter with 5-fold pitch. Cold-formed sliding spindles had been around for many years, but such steep rolled pitches were considered revolutionary at the time.

The procurement of tools was very limited at that time and there were no CNC-controlled machines that could meet these requirements. So, two challenges had to be mastered at the same time. On the one hand, to produce the thread rolling attachment for the steep spindle, and on the other, to design the right tool for the nut.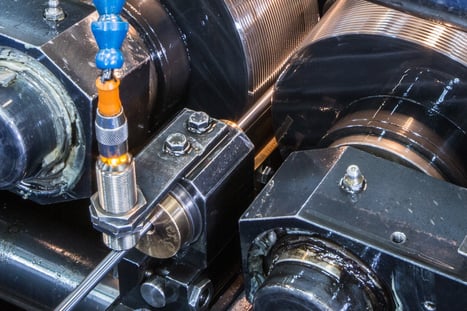 Core competence thread rolling: continuous thread process



«Who had invented it?»
The Eichenberger developers have worked intensively on the technology of cold forming over the years. This resulted in a wealth of know-how and created a range of spindle types in various dimensions, pitches and, above all, thread profile shapes. These included both symmetrical and asymmetrical thread forms. Design engineers constantly experimented with thread flank angles. Since then, countless customer solutions ranging from an 8° to 120° flank angle have been rolled. The shape of the spindle core section has repeatedly taken centre stage. Consequently, basic thread profiles featuring a roof shape, different radii on the thread core diameter, radius fusions, and much more are straightforward for our production in Burg.

The 10 x 50 mm steep thread spindle boasts speed and precision combined with exceptional efficiency. Justifiably, it was named Speedy. The outstanding properties of Speedy lie, among other things, in the perfect combination of a rolled spindle and plastic nut. Several excellent plastic suppliers exist that provide technical plastic components.

The Swiss thread specialist is in close contact with them while remaining independent, so is not bound to any particular raw material. Therefore, the right plastic can be selected for the specific application and recommended to the customer.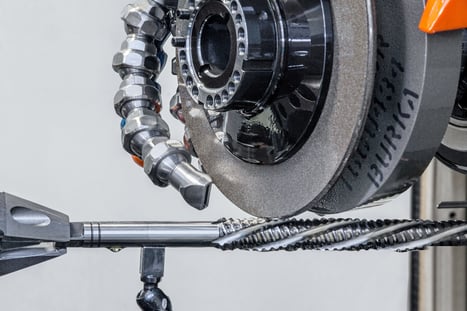 Grinding machine tool


Wafer-thin and minimal initial lubrication ensures 15 times longer service life

The Speedy features high abrasion resistance, low friction coefficient and is maintenance-free. Greaseless running is an option on request. Absolute dry running is often specified from the outset. However, in the course of developing customised spindle solutions, we have found that this is precisely how service life can be considerably extended. Careful, minimal initial lubrication, in the absence of relubrication, has resulted in a 15-fold increase in service life compared to dry running.


Today we are still constantly transforming inspiring ideas into reality.

Eichenberger is the perfect partner for the development and production of your tailor-made screw drives of any shape and design. With our in-house production, we are extremely flexible and can realise even complex products with short time-to-market. Our passion for perfect motion creates outstanding screw drive solutions that bring your innovations to the forefront of the market. Today, exceptional customer solutions are developed on request (most extreme to date: high-helix lead screw 8 mm diameter, 600 mm pitch).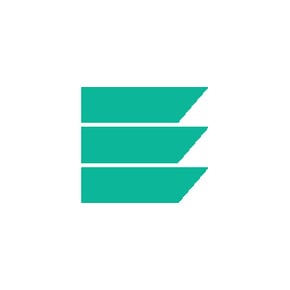 Eichenberger Gewinde AG
Mit Leidenschaft für die perfekte Bewegung, um Sie voran zu bringen. Die Nummer 1 in der Gewindetriebtechnik.