Modern buildings for a variety of uses feature an impressive range of drive and automation systems. Such technology is often virtually invisible in the background, yet provides users with great convenience and simplicity of operation. Security and entry systems, along with sunshades and climate control are common applications for innovative drive solutions. Our ballscrews or lead screws come into play wherever something has to be moved in such applications. Eichenberger pushes boundaries to enable perfect motion and has a passion for venturing into new profile shapes, unconventional materials and dimensions.

Intelligent sun protection systems on building façades adjust automatically to the position of the sun. The drive technology in these devices needs to be highly efficient in a small installation space. Eichenberger addresses these challenges by using high-precision robust cold-formed ball and leadscrew spindles.
Do not forget about sun protection
The media reported on the reflective glass façade of the Walkie-Talkie skyscraper when it was built in the London banking district. The building was the subject of much criticism and controversy during construction. The chic office tower became a powerful solar mirror on account of the concave design of the structure. Passers-by were dazzled and there was more besides. The heat emitted by the glass façade caused tiles to crack and a luxury car parked nearby suffered a melted dashboard and other plastic parts as well. Even a bicycle saddle caught fire and a doormat in front of a hairdressing salon burst into flames. This singe phenomenon, due to the seasonal angle of sun rays, caused a great deal of alarm. Had the horizontal slats originally planned as sun protection been installed, these incidents would not have occurred.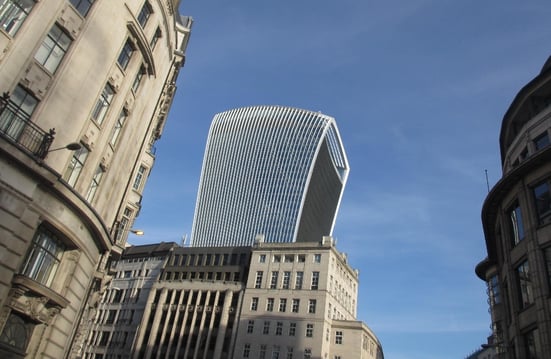 Walkie-Talkie skyscaper in London
Concealed drive solutions for high-tech façades
For building services engineers, the challenge is often to optimise existing systems and integrate and combine available technologies and products in an individual, needs-oriented solution. Nowadays, this involves optimising thermal insulation, preventing interiors from overheating, controlled ventilation, making the best possible use of daylight and reducing air conditioning to a minimum. The Speedy stainless steel high-helix spindle, diameter 18 mm, pitch 24 mm, can reliably position heavy, sensor-controlled shading elements on ultra-modern building façades, for example. Blinds, light and heat protection can be automatically precisely adjusted to changing weather conditions. The Eichenberger 6-metre-long vertical threaded spindles integrated in the shading system provide impressive spindle pitch ratios with astonishingly high travel speeds, in turn enabling very low rotational speeds. As a result, the spindle rotates slowly and efficiently, thus preventing vibrations. The skill involved, among other things, achieving a straight, precise and smooth running 6 metre-long threaded rod.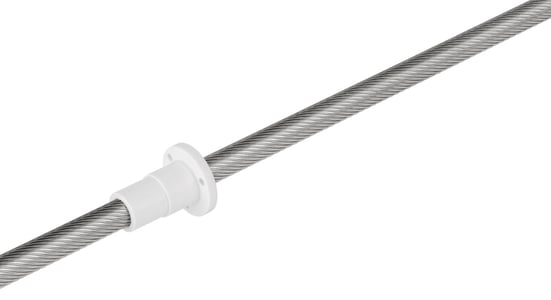 Steep lead screw Speedy 18/100



Optimum dynamics in limited space in tilt ventilation system
Our passion for perfect motion repeatedly leads us down new paths. That is how we develop products that bring your innovations to the forefront of the market. Both in standard versions and tailored solutions, our precision screw drives have been used in a wide range of industries and countless applications over many decades. From very small to low-noise, from high loads to fast movements, we use the right support services to guide our customers to the ideal drive solution. A manufacturer was looking for the optimal drive component for a new, fully automatic window locking system. A concealed tailor-made motion element had to be installed in a tiny window fixture of a tilt ventilation system.

It was clear to Eichenberger that the only solution for this task would be a Carry ball screw - due to the high level of efficiency of over 0.9 η and the resulting energy optimisation. Minimal installation space, load, humidity/condensation and service life all featured prominently in the specifications. Furthermore, the drive element also had to have a driving element to connect other construction components and meet all other quality standards such as speed and accuracy. The designers decided to use a corrosion-resistant ZYI Carry ball screw, 8 mm diameter, 1.5 mm pitch, as the basic element. The integrated single-turn ball return in the nut enabled the extremely small dimensional requirements to be met. It was necessary to completely redefine the outer geometry of the nut and mount the driver component supplied by the manufacturer on it. This made it possible to leave the inner structure of the nut unchanged and thus offer significant price benefits. In addition, a design for anti-rotation was installed. Furthermore, a built-in anti-twist mechanism was installed. This may sound simple, but is only possible through close cooperation of the team, as is the case at Eichenberger. Development, production and quality assurance work hand in hand. The rolling tools can be made in-house, which means that prototypes can be produced within a very short time. All these factors make it possible to produce flexibly and competitively, also at an expensive location.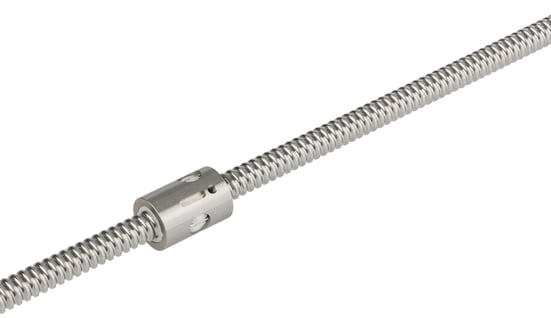 Ballscrew drives Carry ZYI


Advantages of cold forming
A thread is produced by shaping a part between two rotating rolling tools under enormous force. This process, also known as thread rolling, produces a significant strengthening of the thread, excellent surface finishes and reduced susceptibility to notching. The longitudinal fibre of the base material is not interrupted, as is the case with machined threads, but simply formed. The result is a "smoothly rolled", compressed surface, which is essential for a long service life of the spindle. In combination with the optimal spindle, nut and lubrication, this results in a remarkably high efficiency of η 0.65 for the Speedy 18/24. Therefore, it is possible to use motors with reduced power and compact design. The excellent sliding properties with a coefficient of friction of less than 0.1 ensure minimal abrasion and silent running.


Everything you want to set in motion – Eichenberger screw drives get things moving – fast, precise, reliable.
Energy efficient, sustainable use of resources, reduced noise and pollution: even a simple mechanical drive has to meet increasingly ambitious performance standards in the age of automation, digitalisation and miniaturisation. Therefore, with our passion for perfect motion we are continually developing and improving our screw drives. Eichenberger innovations withstand astonishing loads in small installation spaces. The ingenious ball return system in the nut delivers outstanding advantages.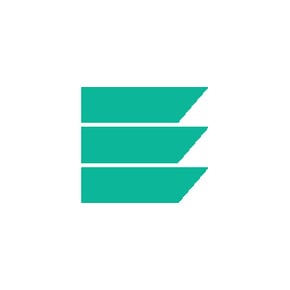 Eichenberger Gewinde AG
Mit Leidenschaft für die perfekte Bewegung, um Sie voran zu bringen. Die Nummer 1 in der Gewindetriebtechnik.