Sunlight stimulates breathing, blood circulation, the cardiovascular system and metabolism. The warm rays influence our state of mind as well as many essential processes and functions of the body. People generally want to spend more time outdoors, and the terrace is one of the most popular places to do so. Enjoying a barbecue in any weather or relaxing in the sun, rain, wind or cold - this is something we are all looking to do. Convenience of use and comfort in all weathers is needed, so that a terrace can be transformed into a living space in a matter of seconds. The 6 metre long Speedy threaded rods, each with 25 nuts running on them, enable a quick and elegant switch from the terrace to the living room. They are integrated into a sophisticated louvre system. The threaded drives silently regulate the precise positioning of the slat elements.

A roof over your head at all times


A new and sophisticated terrace canopy system which can be optimally aligned to the surrounds by means of adjustable louvres, is the ideal protection against too much sun or rain. The flat sun canopy transforms terraces into comfortable outdoor areas. When it rains, the system can be completely closed for a reliable protection against the wet. The slats are designed so that rainwater runs off to the side when opening them after a shower, so that the patio furniture remains protected.

It can be very challenging if the end customer has a particularly demanding project and wants a customised louvre roofing and wall system for a personal outdoor space in an extremely short period of time. Managing this is easier said than done, given the demands placed on the manufacturer of the drive element solution in terms of technology, flexibility and skill.
What are you looking to move?
Our tailored services will guide you to the ideal drive solution


Our experts encourage our partners to develop their ideas for a new product or a completely new type of drive. After all, in order to push our customers ahead of the competition, we challenge the limits of what is technically feasible. Together we develop a screw drive solution for meeting specific requirements and manufacture it to measure - in the shortest possible time. Even for applications for which a screw drive would never have been considered as the perfect solution. With our passion for perfect motion, we venture into new profile shapes, exotic materials and dimensions. Exceptional thread forms provide the challenges we are looking for.

Solving more demanding design tasks can be problematic for designers. In the field of mechanics, for example, development is an ongoing process. Modern drive technology is perceived in a very different way nowadays. Where once mechanical parts were visible, today concealed drives are required. The drives are expected to perform in the smallest possible space, ideally completely invisibly and silently. Features such as maximum travel speeds for rapid movements, low revolutions, long service life, high efficiency and great precision are required. The cold-formed high-helix Speedy spindle is actually a simple motion element, yet it incorporates precisely these outstanding characteristics.

The steep threaded spindles with thread pitches up to oversquare are
manufactured from corrosion-protected steel using the cold-rolling process
and are fitted with highly with highly wear-resistant technopolymer flange nuts
in non-preloaded or preloaded versions or preloaded version.



Speedy delivers the ideal drive solution for patio roofing, very rapidly.




At Eichenberger, close internal teamwork together with the fact that development, production and quality assurance are all carried out under one roof increases flexibility when it comes to prototype production. The rolling tools are manufactured "in house", enabling the realisation of new prototypes in the shortest possible time. As a result, it is possible to produce flexibly and competitively even in expensive locations.



The drive components for terrace canopies have to be developed and produced in fast motion mode, so to speak. The Speedy high-helix screw drive, manufactured using the cold-rolling process and tailored to customer requirements, is used today to control the precise adjustment of the louver elements. In line with the specifications, Eichenberger successfully created a spindle pitch ratio with a 14 mm diameter and a 40 mm pitch for this sun protection system. As the name suggests, speed is the key factor with Speedy.

The exceptional 14/40 pitch ratio results in high traverse speeds, making extremely slow spindle rotation possible. In turn, this has a significant benefit on the vibration properties of the entire construction. 6 metre-long threaded spindles are used for the accurate motion of the sheet metal louvers. The key was to ensure rotation accuracy and linearity of the corrosion-resistant threaded rods at such length. A further challenge was the customised injection-moulded nuts. A specially adapted tool had to be manufactured in-house for the production of the interior of the plastic nuts supplied by the customer. For every 6-metre threaded rod, there are 25 nuts that move the slats smoothly, firmly and extremely quietly.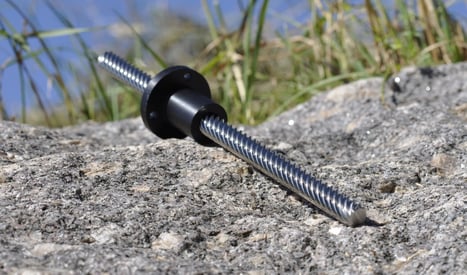 Other example: Speedy 14/40 mm steep thread spindle


Advantages of cold-rolling
What sounds so simple is only possible with a wealth of experience, a high degree of quality awareness and modern machinery. A thread is produced by forming a workpiece under enormous force between two rotating rolling tools. The usual manufacturing processes for threads, such as milling, turning or whirling involve cutting. The drawback of these processes is that they interrupt the fibre flow of the raw material. In contrast, thread rolling is a non-cutting process that involves redirecting the longitudinal fibres of the steel rather than cutting them. Depending on the material, the strength is increased by 30 to 50 %. In addition, the profile surface is strengthened and offers fewer potential areas for contamination. Furthermore, thread rolling produces very good roughness values (< Rz 1.0) on the thread flanks and in the base radius, with the result that notch sensitivity is significantly reduced. The result is a "smoothly rolled", compressed surface, which is essential for giving a long service life to the spindle and in particular to the nut. In this way, with the optimal combination of spindle, nut and lubrication, the efficiency is remarkably high (η 0.8), allowing designers to use more compact motors in terms of power and space. The 40 mm pitch transmission ensures a very dynamic change of position. A standard single-start trapezoidal 14 mm diameter spindle would have to rotate more than 13 times faster to achieve such a high speed, something that is completely impossible with a spindle length of 6 m in terms of critical speed. In addition to excellent stability, the smooth Speedy rotation is beneficial when it comes to wear and noise.

Weather conditions dictate the load application, and performance must be guaranteed in sub-zero temperatures in winter as well as in the heat of summer. The robust and corrosion-resistant Speedy masters every situation perfectly. The excellent sliding properties with a friction coefficient of less than 0.1 ensure minimal abrasion and quiet running. The nut element of the Speedy spindle pushes contaminants ahead like a real dirt scraper, leaving only minimal contamination.
Was sich so einfach anhört, ist nur mit viel Erfahrungsschatz, hohem Qualitätsbewusstsein und einem modernen Maschinenpark möglich. Ein Gewinde wird erzeugt, indem ein Werkstück unter enormer Krafteinwirkung zwischen zwei sich drehenden Rollwerkzeugen verformt wird. Die üblichen Herstellungsverfahren für Gewinde wie Fräsen, Drehen oder Wirbeln sind spanabhebend. Diese haben den Nachteil, dass sie den Faserverlauf des Rohmaterials unterbrechen. Demgegenüber steht das Gewinderollen, das als spanlose Bearbeitung die Längsfasern des Stahls nicht zerschneidet, sondern lediglich umleitet. Je nach Material ist eine Festigkeitssteigerung von 30 bis 50 % der Fall. Zugleich verfestigt sich die Oberfläche im Profil und bietet wenige Angriffsmöglichkeiten für Verschmutzung. Weiter ergeben sich durch das Gewindewalzen sehr gute Rauheitswerte (< Rz 1.0) auf den Gewindeflanken und im Grundradius, woraus eine deutlich verminderte Kerbempfindlichkeit resultiert. Eine "glatt rollierte", komprimierte Oberfläche ist das Resultat, das für eine lange Lebensdauer der Spindel und vor allem für die Mutter zwingend ist. Daraus und in der optimalen Kombination von Spindel, Mutter und Schmierung, ergibt sich ein bemerkenswert hoher Wirkungsgrad von η 0.8. Dem Konstrukteur bietet sich so die Möglichkeit, auf einen Motor zurückzugreifen, der von der Leistung und vom Platzverbrauch her reduziert werden kann. Die Umsetzung der Steigung 40 mm gewährleistet eine sehr dynamische Positionsänderung. Um eine derart hohe Geschwindigkeit zu erreichen, müsste sich eine eingängige Norm-Trapezspindel mit Ø 14 mm über 13 Mal schneller drehen, was bei 6 m Spindellänge - die kritische Drehzahl betreffend - völlig unmöglich wäre. Nebst der guten Stabilität werden Verschleiss und Geräuschbildung durch die sachte Speedy-Drehbewegung auf vorteilehafte Weise beeinflusst.

Je nach Wetterlage wechseln die Lastangriffe und die Funktionsfähigkeit muss auch im Winter, bei Minus-Temperaturen, genauso einwandfrei gewährleistet sein, wie im Sommer, in Hitzezeiten. Die widerstandsfähige und korrosionsbeständige Speedy meistert diese Situationen. Die vortrefflichen Gleiteigenschaften mit einem Reibungskoeffizienten unter 0,1 sorgen für minimalen Abrieb und einen geräuscharmen Lauf. Bei der Speedy-Spindel schiebt der Mutternkörper die Verunreinigungen quasi wie ein Schmutzabstreifer vor sich her und lässt somit nur eine minimale Verschmutzung zu.
"The most important part of a conversation is to hear what was not said."
Do you have an idea yet no solution? Then why not have an inspirational conversation with us? Our tailor-made services will guide you to the ideal drive solution.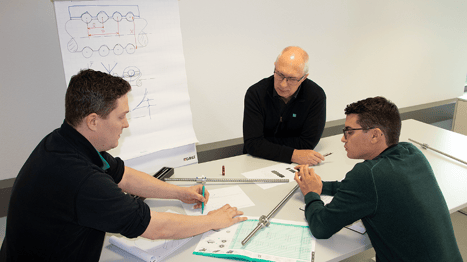 For your current drive solution: Basic-Check
The Basic Check demonstrates what we mean by partner cooperation. In concrete terms, we show you solutions for the fundamental challenges:
Reducing costs of your screw drive solution
Increasing performance and service-life
More performance with new technolgy: Innovation-Check
Experience technical dialogue at the highest level. We will show how your product can be made even more innovative and master the basic challenges:
Reduce costs of drive solution
Optimise installation space and weight
Increase performance and life time
Inspiration for completely new solutions: Inspiration-Check
Our passion for perfect motion combined with seven decades of experience result in surprisingly creative solutions. Experience how the synergy of inspiration and technical expertise produces much more than you expect.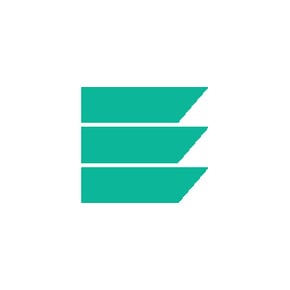 Eichenberger Gewinde AG
Mit Leidenschaft für die perfekte Bewegung, um Sie voran zu bringen. Die Nummer 1 in der Gewindetriebtechnik.