We want to make the impossible possible – focusing on your specific expectations of our products. Our passion to achieve the perfect motion constantly leads us in new directions resulting in screw drive solutions that put your innovations at the top of the market. The aluminium screw drive is now here to stay.
The goal of technical progress is not only to achieve more but also to do it better using new technologies and processes. There is a constant need for to practical solutions. The latest technologies or materials stimulate the field of mechanics and continually reformulate requirements and specifications. Therefore mechanics is a living science. These opportunities are being successfully translated into reality by the Swiss thread specialist, which has succeeded in establishing itself in the drive engineering niche with tailor-made rolled screw drives. The potential of lightweight construction applied to the simplest of moving parts is clearly evident - combined with a sophisticated thread form, the cold-formed aluminium leadscrew is becoming un unsurpassable mechanical drive component, for example, in the vehicular door systems market.
A screw retrospective – and there is no end in sight
The average consumer probably think of a screw and a nut, as first of all being a typical attachment element. However, there are essentially two areas in mechanics in which a screw is used - attachment and motion. The invention of the screw drive is attributed to the Greek polymath Archimedes (287 - 212 BC). According to Pliny, a very important use for the motion screw was already in use in the 3rd century BC. Roman wine presses had oak screws with impressive diameters. In order to achieve the efficiency required, huge logs had to be ratcheted up with a leadscrew so that pressure could be applied to the mash in the press basket.
Over the course of time, the demands placed on mechanical motion elements, screw drives, changed and increased. Whenever turning motion has to be converted into linear motion (or vice-versa), screw drives can be found in use, at all levels of industry, even after 2300 years of technological history.
Materials help to determine progress, even in screw drives
When it comes to mobility, the billions of people using public transport around the world are dependent on the reliability of rail- and transport vehicles. Energy efficiency, saving resources and reduction of noise- and pollutants are all fundamental in sustainable mobility concepts. However, in current material research, "cheaper, lighter, stronger" are major determining trends. Reduced weight, CO2 emissions and fuel consumption, and longer ranges can be achieved using aluminium. The benefits of light weight for equivalent stability, high load capacity and outstanding workability, offered by aluminium, is interesting for the Eichenberger developers.
The centrepiece: door drive
The entry systems of all kinds of vehicles, whether coaches, buses, fire service- or emergency ­vehicles, underground, commuter or high-speed trains or trams, can easily lead to delays and unforeseen incidents. The functionability of the automatic sliding door ­systems therefore plays a crucial role in passenger safety and comfort as well as impacting on profitability. High-speed trains reach spe­eds of over 300 km/h. Imagine the forces at work, including air resistance and wear. Given that, resistance increases to the square of the speed, when speed doubles, air resi­stance quadruples. The centrepiece of these door systems is the linear drive. The aim of the designers from CH-Burg was to develop a more cost-effective solution for the linear motion within these drive units.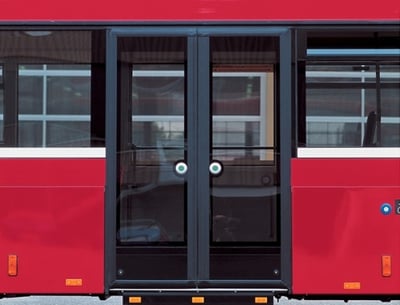 Continued development for sliding door systems


Innovations don't fall from the sky
High exertion, robustness, precision and reliability have to be guaranteed even in the smallest of available spaces. The doors should slide easily and quickly, and the screw-nut system must not self-lock. In the event of a power failure. In the event of an emergency, it is essential that the doors can be opened by hand at all times. Far-reaching innovations are always the result of hard development work. Eichenberger succeeded in producing the special profile cold-rolled aluminium high-helix thread with a diameter of 20 mm and pitch of 80 mm.


"trailblazing" Speedy aluminium high-helix leadscrew, ø 16 mm / pitch 90 mm, left-hand thread
Only when the various components (ideal raw material / alloy, impeccable cold forming, thread rolling tools manufactured specially for the Eichenberger rolling process are in perfect harmony can the flow of material be optimised for a high-helix pitch ratio of 80 mm. The Swiss thread specia­list offers development, manufacturing and quality control, so the flexibility in the production process and creation of ­prototypes, including thread rolling tools, is remarkably high. Expertise and know-how are indispensable when it comes to designing tools for the female thread of the plastic nut. Thanks to these factors, flexible and competitive production is possible even in expensive locations.
"When it comes to weight savings, CO2 emissions and fuel consumption" Speedy aluminium high-helix lead screw,
ø 20 mm / pitch 80 mm
In this case, the spindles already used in sliding door applications are constantly developed further. The new combination of the special hard-anodised 20 / 80 aluminium high-­helix ­leadscrew and the polymer nut (nut material depending on application), is designed so that the spindles can be manufactured using cold forming production processes. The thread-rolling process is acknowledged to result in significant benefits with regard to bonding, roughness values and notch sensitivity.
The support resulting from the special thread profile is completely different. The tipping point/tilting moment is absorbed by the outer diameter of the spindle, which ensures frictionless operation and prevents jamming.
"One of many options" Speedy aluminium high-helix lead screw, ø 20 mm / pitch 80 mm
The plus points at a glance
The aluminium threads, already significantly reinforced by thread rolling, are further refined on the outer layer via hard anodising to produce even greater surface resistance properties. The result is additional reduction of friction coefficient and very good sliding properties. These values, and of course protection against corrosion, are crucial for a long service life.
What sounds so simple can only be achieved with a wealth of experience gained over decades, awareness of the need for quality and modern machinery. The dynamic ratio of the 20 mm diameter and 80 mm pitch allows very high speed of movement. A single-start normal trapezoidal thread with 20 mm diameter would have to turn over 16 times more quickly to reach such a high nut speed. The low number of turns has an additional positive effect on wear and noise.
The innovation really holds its own in terms of price. Rational and rapid production is possible, which positively influences the price, particularly with large unit quantities. For the Swiss thread roller, thread forms that lie outside the norm are welcome challenges. Customer- and solution-oriented diameters and leads can be implemented on request, including for aluminium screws.
Development service provider
The Swiss thread specialist has clear objectives: rolling (cold forming) thread and manufacturing thread drives (screw and nut) and to support customer innovations by using state-of-the-art production methods and developing new dimensions.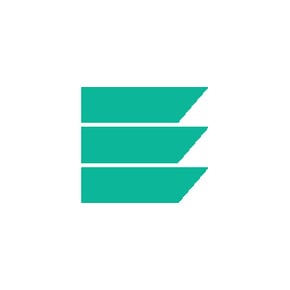 Eichenberger Gewinde AG
Mit Leidenschaft für die perfekte Bewegung, um Sie voran zu bringen. Die Nummer 1 in der Gewindetriebtechnik.